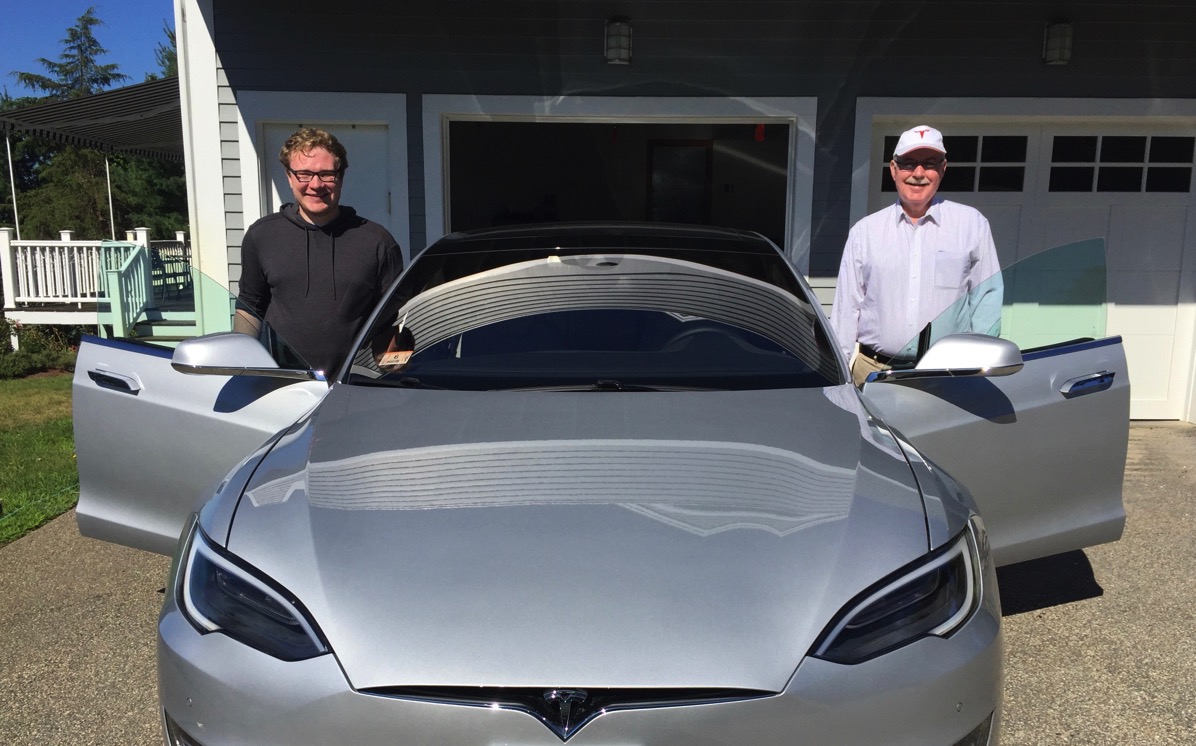 RC and me getting ready to drive to Montreal in August 2016
Welcome to 2017. It's now winter here in Massachusetts, and we've already had snow and ice. We're about to return to London for our first training gig of the new year. Yes, I know that we should be aiming for someplace warmer, but I don't get to choose where business takes me. And frankly, London is delightful to visit any time of year.
I thought New Year's Day would be a good time to summarize the first six months of life with Lightning, our Tesla S90D. Being a big data guy, I thought I'd do my summary in numbers, so here are my metrics from the final 6 months of 2016:
Miles: 5,089: Because of my roughly 50 percent travel schedule, I haven't been home to drive Lightning as much as I'd hoped. When I am home, I drive it just like I would any other new car. Yes, I leave it in the garage when it's yukky outside, but that's just because I don't want to wash it later.
Average energy efficiency: 117 MPGe: For those 5,089 miles, we've consumed 289 watts/mile on average. That's the equivalent of getting 117 miles per gallon if we'd been consuming gasoline, according to the EPA. Given that this car weighs more than 2 tons, that's pretty amazing fuel efficiency.
Supercharger stops: 17: We've made 4 trips of 250 miles or more in Lightning since we took delivery: 3 to Orono, ME with David, and one to Montreal, QC with Robert. We've been very conservative about keeping at least 20% charge in the battery at all times, so that's had us stopping more often than absolutely necessary with the 90 kWh battery pack, but the result has been a stress-free driving experience. Superchargers make long distance travel fun and comparable to the travel time spent in a internal combustion car.
Service calls: 0: Lightning hasn't been back to the Tesla service center since we took delivery in June, with the exception of a quick visit to have a leather manufacturing defect repaired. There's no oil in the car, so we had no need for 1,000 or 5,000 mile oil changes. This car already has had less service than the Mercedes E320 4Matic that it replaced. Lightning's first return to the service center is currently scheduled for June 2017.
Effect on electric bill: negligible: While a full battery "fill-up" should cost about $10 at our electric rates, our electric bills have actually gone down since we started charging our Tesla. One reason we haven't seen any change is that we normally use scheduled charging to charge the Tesla during the day, when our solar panels are active, effectively giving us free charging. The second reason is not one related to Lightning: this fall has been unusually sunny, resulting in greater solar power generation. Regardless, because our power company doesn't offer net metering of our solar power, making use of our solar power to power our transportation actually is more cost effective than selling the power back to the grid.
I think the most interesting part of owning Lightning so far is that we use it in the opposite way most people think of using an electric car. When we are driving around town, we alternate between Lightning and my wife's Acura MDX. But for long distance travel, I vastly prefer taking the Tesla to the Acura. The Tesla is cheaper to drive (free Superchargers versus premium gasoline fill-ups) and the autopilot makes it less tiring to drive for hours on end. Add in the fact that the Tesla is more likely to save our lives in an accident and the choice becomes pretty much a no-brainer.
I'll update the blog further when I'm back from London and get some time driving Lightning in the inevitable New England snow. Winter isn't coming; it's here.